WHAT YOU NEED FOR PAIN RELIEF 
Long hours spent working or sedentary sitting causing you neck pain? Then our Neck Wave™ smart neck massager, for neck pain relief is definitely the right choice for you.
Most people will suffer from neck and back pain at some time in their life. Fatigue, headaches, body aches poor performance and bad mood can all be attributed to strain in the neck and upper back. 
That is where the Neck Wave™ can help! It uses a low-frequency TENS pulse (transcutaneous electrical nerve stimulation). This pulse is able to effectively target and ease pain, soothing the neck and surrounding muscles. 
It's like a real human massage! Say goodbye to costly and bulky neck massagers. Weighing less than 160g, the Neck Wave™ is light and easy to transport.
BENEFITS
✔️ Relieves Muscle Soreness: Our neck massager soothes aching muscles, while promoting blood circulation. Experience a deep massage at home, in the office, or while traveling. 
✔️Ergonomic Design: The Neck Wave™ uses breathable silicone to hug your neck comfortably. It adopts a smart 3D floating electrode plate while using a 4-point fixed design. Our "U" shape design follows the shape of your neck to ensure comfort.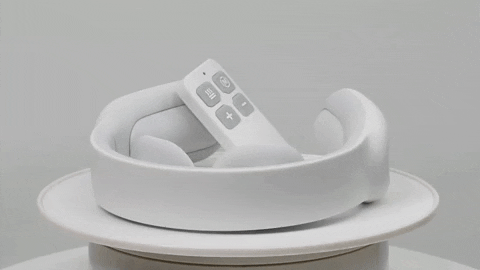 ✔️ Portable: Stay light and on the go with our compact design. Take NeckHalo® with you to any occasion and receive a soothing massage anywhere! The neck massager feels like air as it only weighs 150 grams. 
✔️ 3 Massage Modes: The NeckHalo® has 3 adjustable modes & 15 gear adjustments. Set the NeckHalo® to compliment your mood. Acupuncture, Massage, or Knocking Mode.
✔️ Long Battery Life: Our 450 mA built-in battery can support 30 days of use on a single 2 hour charge!
PACKAGE DETAILS
1 X USB Neck Massager
1 X USB Charger
1 X Remote Controller
1 X User Manual
Our revolutionary product was carefully designed to be easy-to-use from a practitioner's perspective. Alleviate your pain and be comfortable anywhere!
Comfortable as a hot towel
Constant Temperature 

Ergonomic 360 Shape Design to fit all neck sizes
Lightweight and portable
The 

Neckology

™ is a must-have to balance your nervous system